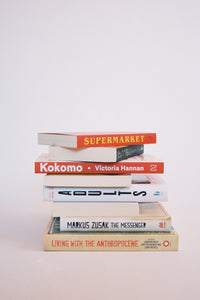 Explore a year's worth of books with Edicole.
Curated book subscriptions for every reader.
Tell us a little about yourself and what you like to read and we'll start sending you the very best in literature, as curated by us, for you.
-
*If you are purchasing this as a gift, please process a gift card to the value of $480 so the recipient can answer the questionnaire and provide shipping details when ready.  
- 
FAQ
● What if I receive a book I've already read?
○ Let us know and we'll happily replace it for you! Please email us at info@edicole.com.au
● Are coffee table books included in the subscription service?
○ No, at this stage only fiction and non-fiction books are included 
● Is shipping included in the yearly cost?
○ Yes, shipping is included in your yearly subscription
● When are the books sent out?
○ On the 1st of every month via regular mail 
● Do you ship to PO Boxes?
○ No, unfortunately we don't 
● Do you ship internationally?
○ Yes, however shipping will be an additional cost and calculated based on each separate shipment 
● Will my subscription automatically renew at the end of the 12 months?
○ No, we'll notify you to find out if you'd like to keep exploring